Day 1
The first night of the Victorian State Age resulted in 1 Gold, 3 Silver and 1 Bronze medal, 2 Out of Gippsland records and some terrific results as follows:
Gold
Caiden Gill – Boys 17-18 years 50m Free – 23.52 (17 years/over Out of Gippsland record (previous 23.80 his own – 2015)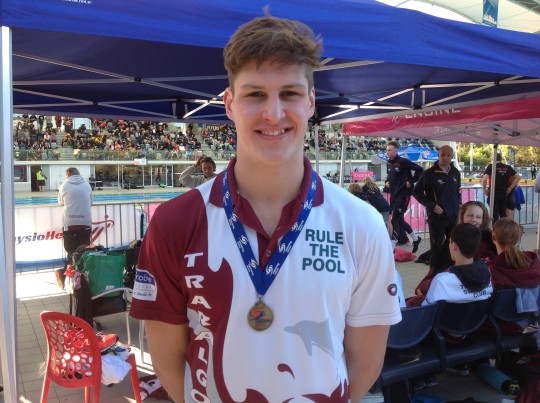 Silver
Harliai Curthoys – Davies – Girl 12 years 100m back – 1.09.50
Mikaela Cornelissen – Girls 17 – 18 years 50m Free –  26.81
Connor O'Neill – Boys 15 years 200 Back – 2.10.19  (16 years Out of Gippsland record (previous 2.13.15 his own – 2015)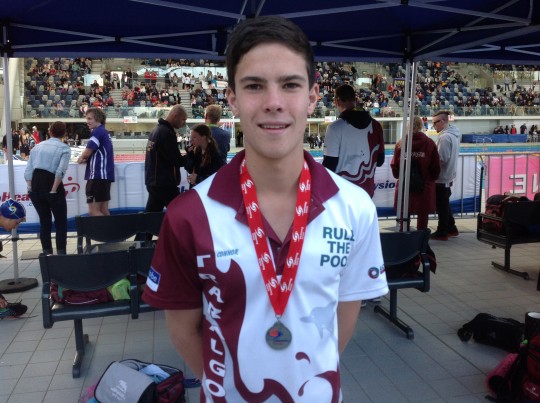 Bronze
Harliai Curthoys – Davies – Girls 12 years 100m free – 1.03.38
New National Age Swimmer
Locke De Garis – Boys 15 years 200 Back – 2.17.34(heat), 2.16.22 (final) QT – 2.18)
Swim of the day was certainly Connor O'Neill's 200 Back, silver and 3 second record, where after an interrupted season with a sinus operation nearly saw him win the event only fading in the last 50 metres. A gutsy swim!
Points score after Day 1 has the Club in 5th pace behind Vicentre, Nunawading, MLC Aquatic and 13 points behind CA Tritons, 171 to 158.
Day 2
Day 2 started with a fantastic swim by the Girls 12 years Medley team winning a Gold beating the best teams in Victoria. In a sensational team effort the combination of Harliai Curthoys – Davies (Back – 32.14), Neisha Ablett (Breast – 37.15), Sophie Waller (Fly – 31.43) and Caydence Bezinna  ( Free – 29.78) swimming a total time of 2.10.40 held the powerful Melbourne Vicentre team by the small margin of  0.38. A great result for a well executed team swim.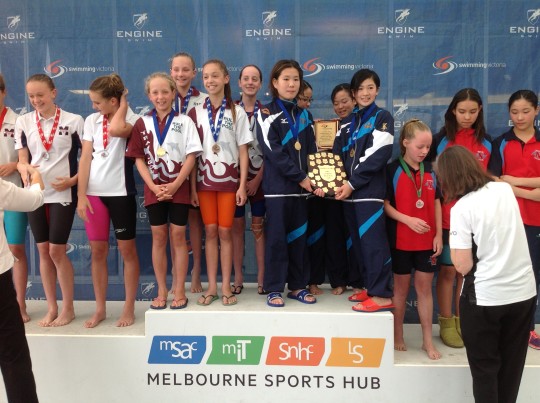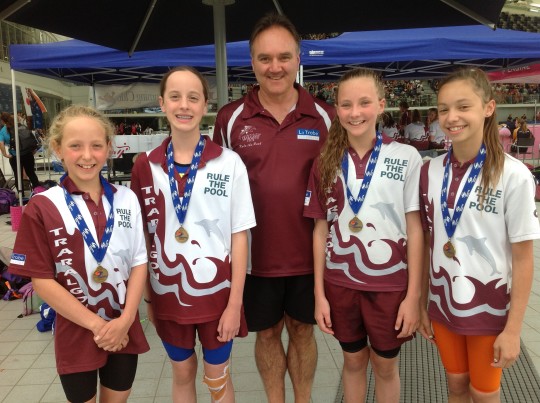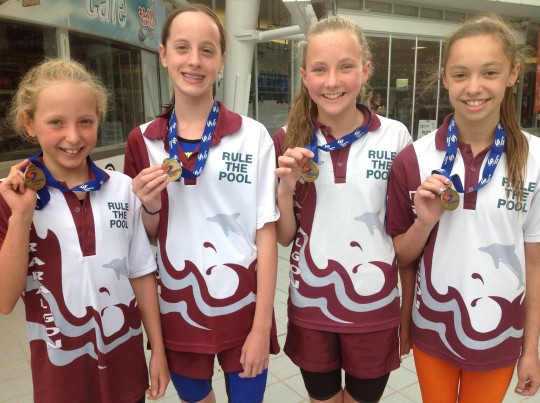 A further medal was won by Harliai Curthoys – Davies in the Girls 12 years 200 free. Swimming a best time of 2.18.48 she finished with a bronze in addition to relay gold for the night.
With points from 9 individual and relay swims the Club has moved from 5th to 4th in the points score overtaking CA Tritons by 5 points.
Day 3
Day 3 of States saw 15 finals result in 1 gold, 1 silver and 2 bronze medals. After  2 surprise finalists in Bridget Cain in the 200 fly and Aidan Bell in the 200 breast, Bridget swam the race of the night improving her entry time  from 2.43.09 prior to the meet down to 2.36.30 in the heat and then 2.32.36 only 0.16 from National time in the final – a fantastic swim.
Another worthy swim was 15 year old Olivia King from the Club's satellite program in Swan Hill who swam 28.12 in the final of the 50 free, only 0.02 away from her National time.
Gold went to 11 year old Jordyn Cargill who won the 200 IM in a time of 2.39.34 winning by nearly 3 seconds. Silver was to Caiden Gill who swam 1.54.28 in 17-18 years 200 free and the 2 bronzes were Jordyn again in the 11 years 50 free (30.18) and Ellodie Reid in Girls 15 years 400 free ( 4.33.72).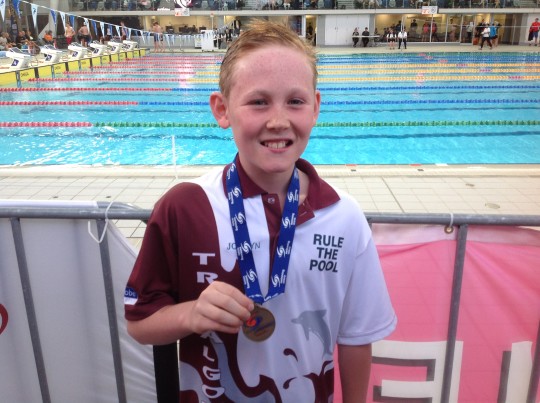 Points score see the Club hanging on to 4th and increasing its slender 3 point lead to 23 over CA Tritons.   A total medal haul to date of 3 gold, 4 silver and 4 bronze with 3 days of exciting racing left. GO TRARALGON!!!!
Day 4
Day 4 of States was definitely the highlight day of the meet so far with 14 finals, 2 gold, 2 silver and 4 bronze medals.
Swim of the day was 15 year old Connor O'Neill's 100 back winning gold over a hot field including  2 team mates, Locke DeGaris and Alex Tsebelis, in the time of 59.85, his first time under a minute. Swimming in his last meet for the Club after obtaining a Scholarship at The Southport School on the Gold Coast (TSS Aquatics) Connor swam a perfect race turning in 28.82 and then controlling the 2nd 50 to win by 0.37.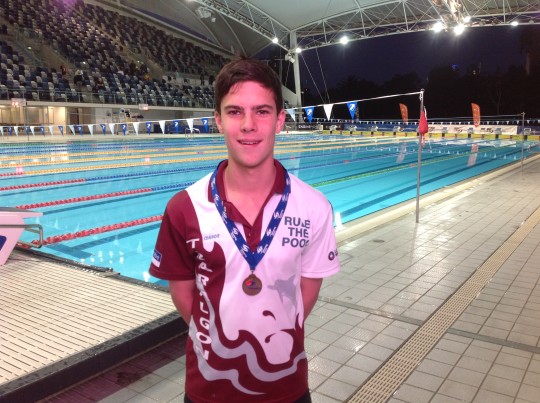 Fellow gold medalist 17 year old Mikaela Cornelissen swam another well controlled 100 m fly edging ever so closely to the magic minute winning in 1.00.17. This time was a new Country 16-17 years and Open record as well as Out of Gippsland 17/over and Open records – a great swim.
Melina De Cort (15) had a great night winning 2 silver medals in the 100m back (1.05.70) and 400m individual medley (5.21.88) showing her best form since ankle surgery 3 months ago.
Jordyn Cargill (11) again picked up medals, this time bronze, in each of his events, 200 breast (3.05.33) and 200 fly (2.46.77). Fellow bronze medalists were Harliai Curthoy-Davies (12) in the 50m free (28.65) and first  year Traralgon swimmer, James Gallagher in the 14 years 100m breast (1.11.04).
Point score wise the Club has edged away from its other non top 3 Clubs leading 4th with a strong 596 points followed by CA Tritons on 464.
The night concluded with the 15 year olds combination of Connor O'Neill, Locke DeGaris, Alex Tsebelis and Mitch O'Neill swimming together for the last time in the 16 years 4 x 100 free relay. This team has won State gold medals and holds numerous State, Country and Gippsland records and with Connor leaving the Club we celebrated with a team and coach photo 3 years apart. How times change and the boys grow into teenagers and then men – if only all boys and girls would continue after the age of 18 to see where growth and development takes them.
Day 5 promises to be hot both in and out of the water with many individual and relay highlights to come – bring it on and GO TRARALGON.
Day 5
Day 5 was again an excellent day for the Club – 2 gold and 2 silver medals from 11 finals.
Swim of the night was Alice Butler's silver in the 15 years 200 breast. Alice made all the running in the first 100 turning in 1.16.19, over a second ahead of her nearest rivals. Extending the lead over the next 25 her blistering pace started to take its toll but she gutsed out the next 75m to nearly snatch an all the way win only going down by 0.21 in the time of 2.39.64. A fantastic swim by a country female breaststroker not seen since Country record holder Lily Collins swam for the Club 4 years ago.
Jordyn Cargill continued his impressive run in the Boys 11 years age group winning gold in the 100 fly (1.10.57) and 200 free ( 2.21.13) and silver in the 100 back (1.12.66). With 3 events remaining on Day 6 for Jordyn he is well placed to take out the 11 year old boys champion trophy.
The Club remains in 4th position – 726 to 604 to the 5th placegetter and has won a total of 7 gold , 8 silver and 8 bronze with one day remaining.
The last word for the evenings racing goes out to our Girls 12 years A team 4 x 50 free relay. After blitzing the field with one swimmer under 29 and the remaining 3 under 30 seconds the team was unfortunately disqualified with a swimmer leaving early.  Whilst not the ideal result we should be proud of the girls and their mature and professional response to the decision  – no tears or drama in front of the crowd in the stands. Well done Sophie Waller, Harliai Curthoy – Davies, Neisha Ablett and Caydence Bezinna.
Last day tomorrow is sure to bring in plenty of action. We look forward to the club finishing off in a positive manner and bringing home 4th for the 3rd year in a row – GO TRARALGON!!!
~ Brian
Day 6
A fabulous finish to the meet by the Club with 13 finalists, 2 gold and a silver medal for the night and overall 4th place in the State and an Age Group Champion in 11 year old Jordyn Cargill.
Jordyn tonight won a gold in the 100 metre free (1.04.34) and silver in the 200 back (2.36.12) making a total of 4 gold, 2 silver and 2 bronze medals for the meet.
Caiden Gill (17) won gold in the 17-18 100 free in a new 16-17 years Country record and Out of Gippsland 17 years/over and Open record time of 50.93 dominating the event from go to whoa.
Alex Tsebelis won bronze in the 15 years 100 fly breaking the minute or the first time in 59.75. This makes a clean sweep of gold, silver and bronze medals with 9 in each colour – fantastic and well done Alex.
From a Club viewpoint the meet was another fantastic result with 4th position behind Melbourne Vicentre, Nunawading and MLC Aquatic beating all other Metropolitan and Country teams. A total of 9 gold, 9 silver and 8 bronze medals with 3 Country and 6 Out of Gippsland records was testament to a great team effort.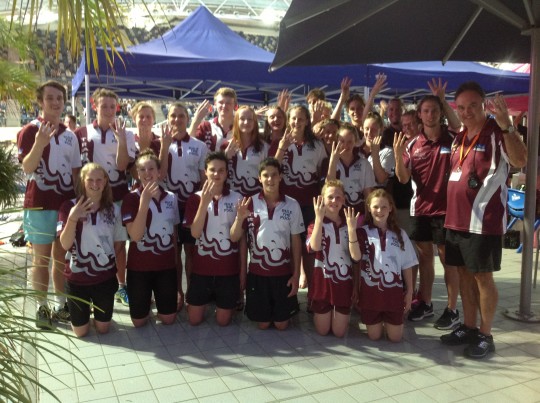 Thank you to the great team effort of coaches Dean Gooch and Cameron Juha and masseur/ team manager Veronica Roberts who together with the swimmers combined as one powerful Country force. Congratulations team. GO TRARALGON!! ~ Brian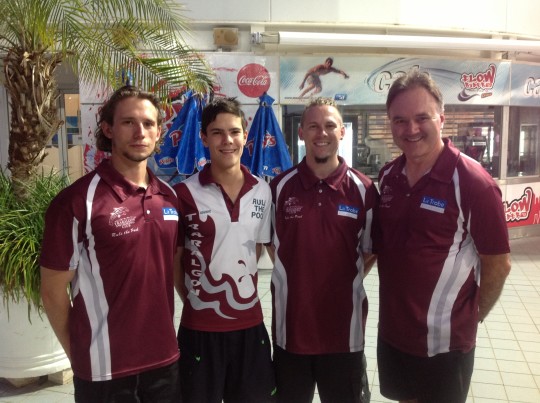 Best of luck Connor!!